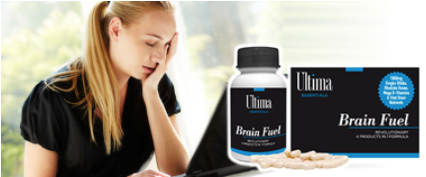 Fighting any form of mental fatigue, memory loss or just struggling to concentrate, then what you need is Ultima Brain Fuel.
With exams in full swing and work deadlines just around the corner, we could all use a little help to remain focused and productive. Ultima Brain Fuel has been specifically formulated for this exact reason – to maximize your brain power, fight mental fatigue while supporting concentration and memory. Now there are some of you out there thinking, wait a minute, I don't suffer from fatigue, memory-loss or concentration lapses, but do you find yourself missing deadlines, feeling forgetful and fighting mental stress, then you need Ultima Brain Fuel now.

Ultima Brain Fuel has the best combination of herbs, vitamins and minerals that your body needs to ensure you maximise your brain power and allow you to perform at your peak.
Ultima Brain Fuel is safe and contains no stimulants or banned substances, are caffeine and preservative free and non-addictive. 
 
Ultima Brain Fuel is the only 4 - in -1 formulation containing all the brain-boosting nutrients and vitamins needed.
Gingko Biloba Extract – to improve oxygen and nutrient supply to the brain

Rhodiola Rosea Extract – to fight mental fatigue, combat stress and improve memory and concentration

Energizing B Vitamins - to nourish and regenerate vital nerve and brain tissue

Brain Nutrients - Phosphatidylcholine & Serine with L Tyrosine and L Arginine Pyroglutamate
 
That's why it remains SA's #1 Brain Supplement
If you want to perform at your peak and get those most important tasks done – get Ultima Brain Fuel now.
 
Ultima Brain Fuel is ideal for :
Students studying for finals

Teachers

Mental fatigue, stress and mood

Forgetfulness

Working Moms and Dads

Grannies and Grandpas

Athletes

Doctors, Nurses and Shift Workers – everyone working at night
---