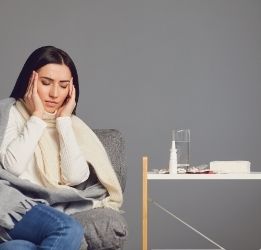 Stay Healthy This Winter
­As winter approaches and the weather begins to chill the air   many of us wish we could stay indoors and cocoon ourselves to stay warm.  Winter is often synonymous with packing on a few extra kilograms and if your unlucky, catching a case of the sniffles.  Added to this there is also the concern of a possible third wave of Covid.
It therefore remains paramount that we keep our immune system healthy and continue living as healthy a lifestyle as possible.  Staying healthy, safe and protected during these times (Covid-19 and winter) is important, but tuning into your well-being is just as crucial.
Due to the cold weather making land in South Africa and shorter cloudy days, we are likely to see an increase in colds and flu, with the likelihood of Covid cases increasing as well.  People will be interacting more indoors where ventilation is poor, increasing the possible spread of viruses.  It is because of these threats that we need to make sure we keep our immunity strong and our bodies packed with nutrients.  Ensure that your body has all the necessary vitamins and minerals it needs to keep safe and healthy by supplementing and eating a nutrient rich diet.
This winter we will be forced to look at how we can adapt and find new solutions to support a healthy lifestyle and keep our immune system strong so you stay healthy. While the environment outside may be out of our control, we can still ensure that you are covered, mentally healthy and joyful.  By adopting some of our self-care ideas this winter, you can keep your body healthy. 
Self-Care
Self-care in the winter months is all about reducing stress, getting enough sleep and committing time to you and your mental health and well being.  This includes personal hygiene, but is also about managing your schedule, taking time for stillness, exercising, eating healthy and of course managing your sleep schedule.  Being proactive with these will help to reduce and manage stress levels, increase productivity and happiness. 
Unfortunately, with the change in season comes a change in people's moods.  With cold weather come feelings of grumpiness, low energy and depression.  This doesn't mean that you should give into the cold and allow it to take its toll on you.  You are in charge of your own health and well-being so it is essential to have a good self-care routine.  Remember the aim is to ensure that you don't just get by and hope you don't get sick, but instead, strive to make sure that you are doing everything in your power to stay healthy and strong.  By adding a multi-vitamin to your lifestyle this winter, you will be giving your body the tools it needs to promote health.  With Ultima Multi-Vitamin you get only the best, over 13 vitamins, 15 minerals and anti-oxidants daily, helping to balance your life while keeping you healthy. 
Managing your Sleep
Getting a good night's sleep in winter may not seem like a problem.  After all, it's the season of warm blankets, long nights, snuggling up and hibernating.  For some people, winter can wreak havoc on sleeping patterns affecting not only the amount of sleep you get but also the quality of sleep.  If you're one of those people that find the colder, shorter months means tossing and turning at night – we're here for you.  Ultima Tranquil Sleep has been formulated to naturally help your body relax and promote a deep, restful sleep allowing you to awaken feeling refreshed, rejuvenated and alert.  Sleep is very important as it allows our minds and bodies time to recover from the day's activities.  With a potent blend of safe, organic non addictive herbs; you can turn those sleepless nights into some of the best night's rest ever.  You always want to take on the day feeling your best, and the only way to feel this way is to make sure you get a good night's rest.  When you sleep your body recovers, if you're not getting a good night's sleep your body can't recover as well, leading to days of mental and physical fatigue that can last all day.
Stress
With the wet weather, cold shorter days and longer nights, it's easy to feel shut in and run down this winter with "the winter blues." If you suffer from the winter blues and it starts affecting your life- from work to personal relationships – then you are most likely suffering from seasonal effective disorder (SAD).  SAD is a sub-type of major depression, and is characterized by the onset of depression during the winter season when there is less natural light. Ultima Adaptogens have been formulated to help you and your body deal with the effects of stress; emotionally, physically and mentally.  Adaptogenic herbs are considered the most important of all plant nutrients as they are rarely found in foods we eat, making supplementation essential.  SAD affects us all during the winter months, some worse than others, but never the less we all get the winter blues.  The product that I turn to when this happens is Ultima St John's Wort, an alternative to conventional anti-depressant that helps with SAD and is sometimes referred to as "sunlight in a bottle," as it gently leads you to a stable internal rhythm, without too many ups and downs.
Mood
As clouds and cold weather approaches, don't forget to take your Vitamin D, "the sunshine vitamin, as it is produced in your skin in response to sunlight.  The lack of sunshine affects your immunity and mood negatively, especially if you spend your whole day and night indoors. Increasing your uptake of Vitamin D during the winter season is vital for your immunity and mood, as it helps to increase your serotonin levels, which help stabilize your mood, feelings of well-being, and happiness. Many of the human bodies' important roles require Vitamin D as it helps poor immune systems stay balanced. 
Today the need for nutritional supplements is no longer one for debate. It is only a question of which products are safe and ideal for your age, lifestyle demands and goals.
Ultima is dedicated to supplying South Africans with natural herbal products that promote immune health and overall wellness for more than 30 years. The products are multi-functional ensuring that all your nutritional needs are met.  Only the freshest, most researched, and highest quality ingredients available worldwide are used. 
Learn more about how the following Ultima products can help you cope with winter this year, keeping you and your family healthy, happy and safe.  All of these products contain Vitamin D and have been used for years to aid in a better lifestyle for mood, stress, sleep and a healthy lifestyle.
Ultima Adaptogens - Reduce Stress and Fatigue naturally
Ultima Complete Multi Vitamins – Balanced life ….
Ultima Tranquil Sleep – For a restful night's sleep
Ultima 1 Shake – Nutrition for the whole family that tastes great
Ultima Kan Jang – Fights colds and flu naturally
Ultima St John's Wort – Natures natural anti-depressant
Ultima Joint Health – For pain free movement
---