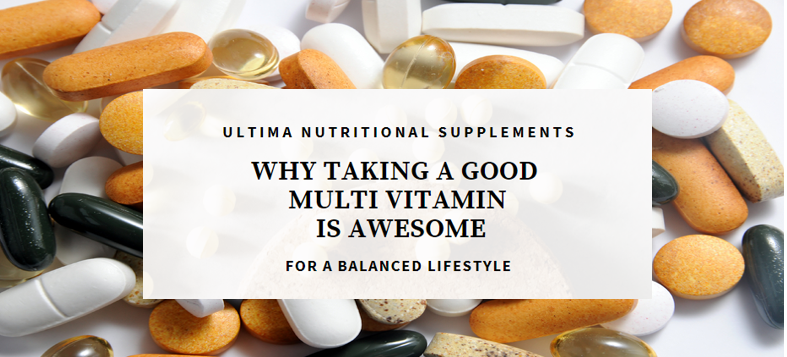 Why Taking a Good Multi Vitamin is Awesome.
We all get bogged down with work and family responsibilities from time to time. In order to remain on top of your game and perform at your peak, you need to ensure that you are feeding your body with the correct amount of nutrients, minerals and vitamins required. Whether at home completing chores, at the office chasing deadlines, or at school tackling tasks, this remains a challenge for everyone.
Taking a Multi Vitamin supplement can definitely help.  It may be difficult to remember to take your Multi Vit each day, but we promise you that you can only benefit from it. Make it a morning routine and reap the rewards.
Most people are not getting all the nutrients required.  We're not getting enough iron, calcium, magnesium, potassium, etc., and that affects how we perform on a daily basis.
That's what makes taking a Multi Vitamin so awesome.  It supplies your body and mind with everything you need, in one go.
Studies and reports have shown that adding a Multi Vitamin to your daily routine can help with;-
Healthy Ageing
Better Heart Health
Boosting Immunity
Supporting Good Eye Health
Replenishing the Body Daily with Water Soluble Vitamins
Healthy Skin and Hair
Short Term Memory Improvement
Strengthens Muscles
Overall Better Health and More Energy
To help you take the guess work out of your nutritional needs, try Ultima's Multi Vitamin, because we all need a little help sometimes. It supplies optimal health doses of vitamins and minerals to effectively take the guess work out of your health needs.
What we eat alone does not supply optimal amounts of vitamins and minerals for health, and therefore supplementation is needed.  Ultima's Multi Vit contains the best form and best dosage of vitamins (13 in total) and minerals (15 in total) for superior absorption and benefits – a complete Multi-Vit. 
Start to feel amazing again by feeding your body with Ultima Multi Vit to protect your immune system and keep your mind and body healthy so that you and you can perform at your peak – no matter the challenge.
Ultima Multi Vitamin contains : 90 Veggie Capsules
An Energetic Invigorating Blend: With Spirulina that is a natural source of essential phytonutrients, protein and amino acids as well as Panax Ginseng which research suggests supports vitality and assists in energy production.
A Youthful and Vibrant Blend : With anti-oxidants to help protect you from free radicals.
Full B-Vitamin Complex: Essential for carbohydrate metabolism and energy production
and much more………..
Ultima Multi Vitamin is suitable for vegetarians.
Click here to learn more about Ultima Multi Vit
Click here to see Ultima's full range of supplements.
---
1 comment